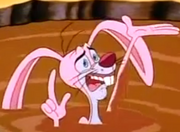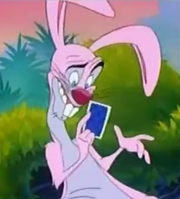 A very tiring animal. Timon and Pumbaa saved his life once when he was drowning in quick sand on a dessert in
Mojave Desserted.
Timon later regretted that action when the annoying pink bunny refused to leave them alone, trying to repay them for their kindness.
Rabbit later came between the two friends in Africa Dabra, this time he appeared as a ruthless magician and tried to make Timon and himself big stars, coming between the friendship of Timon and Pumbaa along the way.
Rabbit is voiced by Charles Adler.