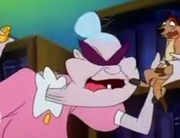 Grumpy old librarian of a library Timon and Pumbaa enter in Library Brouhaha. She believes strongly in silence in the library and kicked Timon and Pumbaa out several times when they made a noise trying to catch and eat a bookworm. She also hit a bluebird over the head with her book when the animal started singing on her windowsill.
Interestingly, Rita made her first appearance in the previous episode Shopping Mauled, with a group of other one-off characters.
Rita Book is voiced by Tress MacNeille.
Ad blocker interference detected!
Wikia is a free-to-use site that makes money from advertising. We have a modified experience for viewers using ad blockers

Wikia is not accessible if you've made further modifications. Remove the custom ad blocker rule(s) and the page will load as expected.